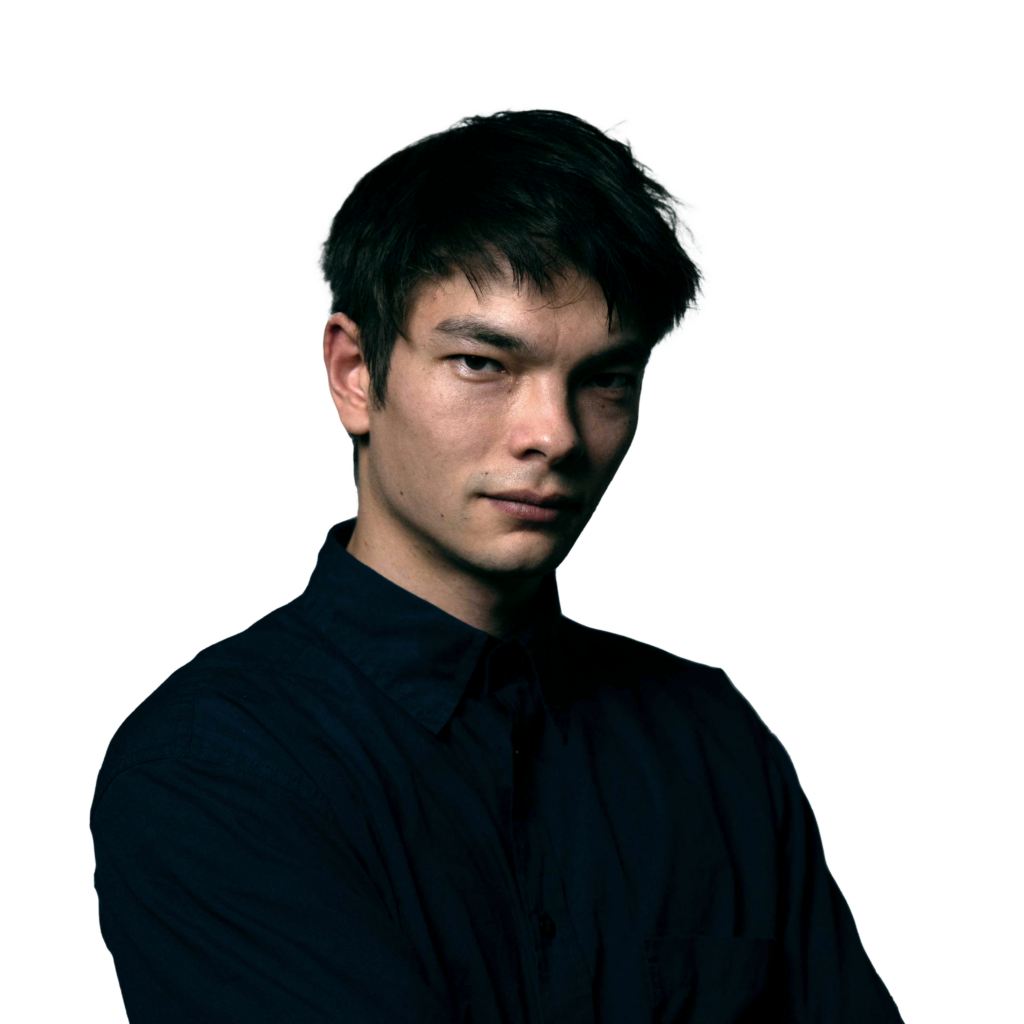 As a designer, I'm interested in a broad range of communication and the underlying framework of intertextualities.

As an artist, I'm constantly experimenting with different media.
With a B.A. in sinology and cognitive science, profound experience in project management and media design, further education in UX/UI and 3D design, and a great passion for strategic communication, I take an interdisciplinary approach when looking for creative solutions.
I can help you design products and build your brand.
Feel free to contact me at: [email protected]
my tools as a designer:
Premiere, Photoshop, Illustrator, InDesign, Figma, InkScape, Blender, GitHub, WordPress
my coding experience:
HTML5, SaSS, JS, JQuery, PHP, MySQL, Scheme, R
my top features:
empathy, agility & commitment to quality
* I was rendered and exported in Freiburg during the year 1994
education
| | | | |
| --- | --- | --- | --- |
| student in the Blender course | Academy for Informatics and Graphic Design FIGD | | 08-11/2022 |
| student in the UX/UI design course | Academy for Informatics and Graphic Design FIGD | | 08/2021-08/2022 |
| participant in the advanced Photoshop course | LIMA Berlin | | 04/2017 |
| Bachelor of Arts in Sinology and Cognitive Science | Albert-Ludwigs University Freiburg | | 10/2014-02/2021 |
employments and internships
| | | | |
| --- | --- | --- | --- |
| production assistance | COSMO at Rundfunk Brandenburg Berlin | | 01-04/2021 |
| internship in the communication department | Mercator Institute for China Studies Berlin | | 10-12/2020 |
| project management, illustration, media design | International Club of the Student Union Freiburg | | 2018-2020 |
| technical support, artistic assistance, art handling | Kunstverein Freiburg | | 2017-2020 |
| internship in the analog print workshop | "La Sirena" by Roberto Sandino in Granada NI | | 03-04/2016 |
| internship in the freelance illustration workshop | Gabriella Stellino in Riegel am Kaiserstuhl | | 11/2014-04/2015 |
concept and management
| | | | |
| --- | --- | --- | --- |
| co-founding, management, visual design | "Rempart Rave" by Impuls Crew | | 01/2020-10/2020 |
| co-founding, management, brand design | Subtil/Skurril | | 05/2017-today |
| co-founding, management, graphic design | Movement Motus e.V. | | 12/2015-01/2020 |
video production and post
| | | | |
| --- | --- | --- | --- |
| cinematography, storyboard, editing | "Liebe" Shortfilm by Nils Dressel | | 01/2022 |
| production & editing | "Aerial-Hoop" Performance Trailer for Noah Rees | | 11/2021 |
| direction, camera, editing | "Baloon Culture" videoproject with Johann Eggebrecht | | 11/2021 |
| direction assistance, graphic design, setdesign | Blackwood Films Freiburg | | 12/2014-01/2016 |